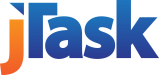 Palo Alto, CA
---
jTask, Inc.
jTask, Inc. is a professional services company that provides Change Management and Instructional Design Consulting, Software, and CCMP Training.

Software: jTask Pulse provides change management in the cloud. Stakeholder analysis, change impact analysis, communications, training, and user mapping.

CCMP Training: We teach the ACMP® Standard for Change Management™. jTask is an ACMP QEP™ (Qualified Education Provider™).